Contact Us
Office opening hours: (Term time only)
Monday: 9.30pm - 5pm
Tuesday: 9.30am - 2pm
Wednesday: 9.30am - 2pm
Thursday: 9.30am - 5pm
Friday: 10am - 2pm
FAQs

Email addresses for commissioners and county lead volunteers email addresses can be found on the county website "Your county team" page located in the "About us" section.
Our members can contact the above plus other volunteers via the GO directory.
Once logged into Go use the dropdown option with your name on in the right-hand to select the profile option.
It is important that you now use the Lefthand side menu only*. Select the last option of change email. Then the security subheading.
*DO NOT USE THE EDIT OPTIONS ON THE RIGHT HAND SIDE OF THE PAGE
Once on this screen you should follow the instructions in respect of entering your user password and then enter your new/correct email address.
Check the county website for details on how to get your external first aid qualification added to your GO record.
You should request a letter of charitable status from Girlguiding HQ [email protected]. You should make sure the letter refers to the bank account's name.
Please refer to the Events page and Training page of the county website.
Details of training courses are also contained within the monthly Essential News enewsletter emailed to all members aged 14+.
Information about events is included within the monthly Billboard enewsletter, emailed to members aged 14+ who have opted into receiving marketing via the marketing preferences within GO.
Sign into your GO account.
From the top right drop down menu, select marketing preferences. Tick to receive communication by email as well as regional information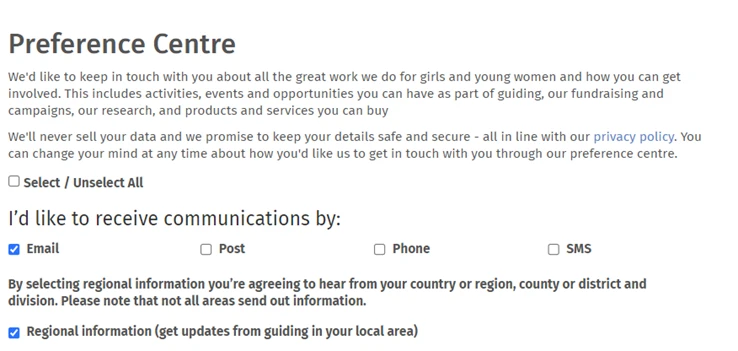 [email protected]. If suitable, it will be shared via the Noticeboard webpage or within the monthly Billboard e-newsletter sent to members opted into receiving marketing
Postal address
c/o Hertfordshire Guide Centre
Cottered
Buntingford
Hertfordshire
SG9 9QP