Membership System Updates 2022
June 2022
Update on GO Problems
Hopefully, you will all have seen the email that was sent out from HQ last Tuesday. This gave details of what happened to cause the catastrophic breakdown of the GO system, and the intended actions to get things back to normal. The wording from this email is copied below. The good news is that any updated data should not be lost in the reversal procedure.
Problems with GO - what we're doing

We wanted to let you know what we're doing to solve the problems volunteers have been experiencing using GO. We know this is making your role as a volunteer harder than it needs to be, and we're very sorry that this is still causing you difficulties. We want to explain how this happened, and what we're doing to solve the problem.

What happened

On 17 May we made an update to how GO works behind the scenes in response to a change in pricing structure from Microsoft. The goal of this was to make GO run faster, and improve everyone's experience using it. Unfortunately, despite the testing we did to make sure the updates went smoothly, the changes have caused significant problems.

Lots of you have helped since this happened by reporting the issues you've been having. We know that this has involved extra work, and we're extremely grateful, as it's really helped us to get an accurate picture of what's wrong.

What we're doing

Our IT teams have been hard at work investigating all the reported issues. As a result, we've decided to reverse the update. We've made this decision because it's the best way to get GO up and running as fast as possible. We're currently estimating that this will be done by Monday 13 June. We appreciate that this is not a speedy resolution, and we're very sorry that the disruption is lasting for this long. Our IT teams are also identifying smaller fixes to some bugs that can be made before 13 June, and we'll make those as soon as possible.

Reversing the update will not affect any information that has been entered into GO since the problems began on 17 May. Your changes will still be saved and you will be able to access the latest data for your unit or area.

Thanks to your help, we're confident that we're now aware of all the problems, so there's no need to report them until we make the update. If you have any difficulties after 13 June, please contact [email protected] and include details of the issue, along with screenshots if possible. We'll be in touch with you as soon as we can, although we may not be able to get back to you straight away due to a large volume of emails we are responding to.

Finally, and most importantly, we're very sorry that this has happened. Our goal is always to try and improve your experience as volunteers, so that you can spend more time doing what you love - creating great experiences for girls and young women. It's clear we missed the mark with this update, and our IT team will be using all your feedback, and the lessons learnt, to carry out a full review and ensure that this doesn't happen again.
May 2022
Changing Email addresses on a GO record
An email address can only be changed for a volunteer or girl, by a DC or Unit Leader, when the record does not have a GO login associated with it.
Once a record has a GO login, it is the person's (or their parent's, if a girl) responsibility to keep their details up to date. In particular, they are the only person who can change their email address. In the event that they are unable to do this for themselves, only Membership Systems at HQ can help.
Setting up access to GO and the Learning Platform - updated
View the updated instructions (Junk mail settings)
April 2022
Role Changes
Mentor Roles
All Leadership Qualification Mentor roles are being/have been changed to County Level, in readiness for the new LQ to be launched on the learning platform.
Occasional Helper Roles
Most, if not all, of the Occasional Helper type roles at District, Division or County level, have now been changed to District/Division/County Helper roles. These roles all now require a DBS check and Safe Space Levels 1 and 2, please encourage people to complete these as soon as possible.
These new Helper roles have optional membership and do not accrue service, even if membership is set to 'Member'. If membership is set to Recognised Volunteer, they will not attract subscriptions.
Unit Helper roles will continue to require a DBS check, Safe Space Levels 1 and 2, have mandatory membership and will accrue service.
All Girlguiding roles now need at least Safe Space Level 1. Nearly all roles also need either a DBS check or require mandatory membership, often both.
Setting up access to GO and the Learning Platform - updated
March 2022
Subscriptions – Check invoices carefully
We are aware that there have been a few live invoices where the number of girls or adults is incorrect. This has only affected invoices where late changes were made on 21 February, the last day that changes were allowed. Please check your invoices carefully if you made changes on that day, and report any error to [email protected]
Setting up access to GO and the Learning Platform
To set up a learning platform account, you will first need to have registered an account on GO, our membership database, with your email address and chosen username. GO and the Learning Platform are two separate systems, but they do 'talk' to each other. You can set different passwords for each system, but the username will always be the same. Please be aware that if you change the password on one system it will not change on the other.
If you have never logged in to GO before you can use the 'Don't have a login' button, on the GO login screen, to receive an invitation code. Please make sure you use the same email address which you have used in your enquiry or, if you are already a member, the one on your GO record.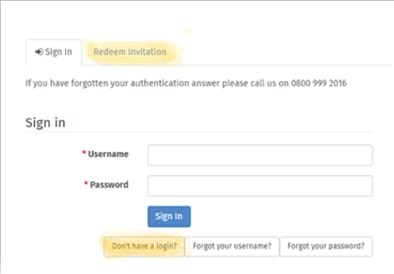 You will receive an invitation code by email. When you have the code, click on the Redeem Invitation tab to enter the code and register your account.
After you have set up your GO account, a learning platform account will automatically be set up for you within 24 hours.
When you are ready to access your learning platform account you can use this link to the login page https://learning.girlguiding.org.uk/login/index.php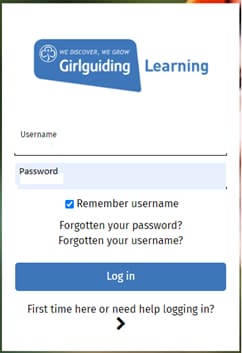 The bottom grey button entitled 'first time here' will open a section explaining how to access the platform.
To set your password, click the forgotten password link, which will send an email with a reset link.
Click on the reset link in your email and input a new password.
You will then be able to access the platform and complete your 'A Safe Space' or any other e-learnings and webinars you are interested in. Any e-learnings you complete will take 24 - 48 hours to synchronize over to your GO account.
If you have any trouble accessing the platform, completing the e-learning or your course has not registered on GO, please email [email protected] and they should be able to help.
Unit Occasional Helper (UOH) roles - remaining roles to be changed by HQ
Thank you to everyone who changed UOH roles before the close of the subscriptions process. We do still have 26 within the county and these remaining roles will now be automatically changed, by HQ, to Unit Helper, by the end of March. For those that do not already have a valid DBS check, this will start the 120-day period where they will be required to complete a disclosure check, which is needed for the Unit Helper role. The new role will attract subscriptions next year.
More Role Changes – District/Division/County Residential Occasional Helpers(ROH)/Occasional Helpers(OH)
District/Division/County ROH/OH roles will be changed, by HQ, to District/Division/County Helper, by end of March. The implication for the ROH role is simply a name change.
There will, however, be implications for the OH role. We have previously fallen back on this role as one of the only ones that did not require a DBS. The new Helper role will require a DBS, which must be completed within 120 days of the role being changed, and Safe Space Level 2. Membership will still be optional, with the decision being made by the local commissioner.
DBS Changes – Change to length of validity/investigation into using Update Service
From 26 April, DBS renewal dates will be changed from five years to three years. This will bring it in line with A Safe Space renewal and best practice across the youth sector. This will only affect new volunteers and those renewing. Existing volunteers won't need to renew their disclosure check until the expiry date that is showing on their GO record.
Good news for many - Girlguiding will be exploring, this year, whether the DBS update service would be beneficial.
February 2022
Unit Occasional Helpers – Obsolete and need to be replaced NOW
We still have 42 Unit Occasional Helper roles within county. These roles were made obsolete in May 2021 and need to be removed now. Please contact the volunteer and discuss an appropriate role. You might want to consider moving them to district level where the Occasional Helper roles are still available.
Subscriptions – Who You pay for and how to change
You will be charged the annual subscription for anyone who has their membership status set to 'Member'. Occasional Helper, Residential Occasional Helper, Treasurer and Young External Volunteer roles all have optional membership, and their status can be changed to Recognised Volunteer. You will not be charged the annual subscription for anyone whose membership status is set to 'Recognised Volunteer.'
To change membership status, find the member under Volunteer Roles and then select 'Edit Individual' from the action arrow at the end of the row with their name. Click Edit in the second panel, where you can see the Membership Status. You can then use the drop-down arrow in the Membership Status field to toggle between the two options 'Member' or 'Recognised Volunteer'. Then click the Update bar at the bottom of your screen to update record.
New Learning Platform
All members should, by now, have received an email with instructions about how to login to the new learning platform. All the Safe Space e-learnings plus many others, will now be done via this platform.
Any new enquirers will need to create a login to GO first and will then need to create the login for the platform. Both GO and the Learning Platform use the same username but have different passwords. It is hoped that the two logins will eventually be joined so that you will only need one.
Death of a Member
In the unfortunate event that you are faced with dealing with the death of a member, please contact one or all the following: County Commissioner, County GO Coordinator, County Office. Do not end any roles that the member may have, as this will trigger automatic emails from the GO system. County GO Coordinator will inform HQ, who will put a stop on the emails before ending any roles. HQ will also normally make available a person's Guiding History report which may be useful.
January 2022
Important – Commissioners - Action Required NOW on Unit Occasional Helper Roles
We still have 72 unit occasional helper roles within county. This role type was made obsolete in May last year and commissioners were asked to change these as soon as possible. If they are not changed locally then, at some point, HQ will change them automatically, most likely to a unit helper role.
If HQ enforce a change before subscriptions become due in February, this will mean that subscriptions will be payable, as the unit helper role has mandatory membership. You should discuss any change with your UOH, so that you can decide, together, the most appropriate role. A suitable alternative might be the district occasional helper role and, if membership status is set to Recognised Volunteer, will not attract subscriptions.
Please do this as soon as possible and do be aware that, if your volunteer has other roles, ending their main role in your unit/level may have repercussions for other units/levels. They may not be expecting to find someone added to their subscriptions due list, so please don't leave this until the last minute.
---