Brownies
Brownies welcomes all girls from 7 to 10 years old for nonstop fun, learning and adventure.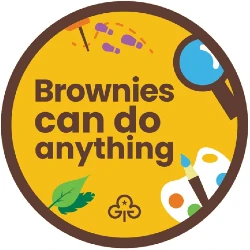 It's full of firsts: they might grow their first plant, cook their first cake, put up (and take down) their first tent, light their first fire, go on their first fun-packed weekend away with guiding friends.
With a helpful hand from our encouraging volunteers, they'll explore their creative side, get out into the great outdoors, and start learning to look after themselves, others and the world we live in.
They can build their own Brownie adventure — they might just want to have fun with their friends; they might like to work towards the many badges and awards we offer. They can have a go at all sorts of things: from making a robot to exploring mindfulness to putting on a magic show. There's something for every girl at Brownies, and plenty of moments they'll never forget.
The next step in her guiding journey
When your daughter becomes old enough, she'll be able to move up to Guides
In advance, speak with their current unit leader about available local opportunities. There might not be a place for them straight away, so they may have to be added to your chosen unit's waiting list. It is therefore advisable to make enquiries as soon as possible.
You can find out more about the process on the Girlguiding UK website