Share With Us
SHARE is our county e-magazine emailed to all our members (aged 14 and over) opted into receiving marketing messages. The latest e-editions are available to view below.
It's packed with stories and photos of what everyone has been doing from within the county from Rainbows to Trefoil Guild.
Get ready for the new look SHARE magazine! Share 50, which is now available to read, is the final edition of the magazine in it's current format.
The designing of the magazine is being brought in-house, and going forward you will see a new look to the style as well as it being published on a more frequent basis. This enables us to keep the magazine relevant, featuring articles about recent events, activities and achievements, allowing you to act on exciting opportunities straightaway.
Submissions can now be made at any time during the year to [email protected]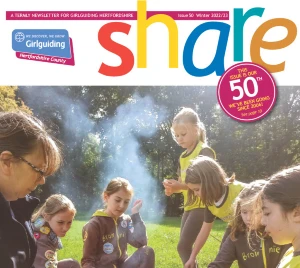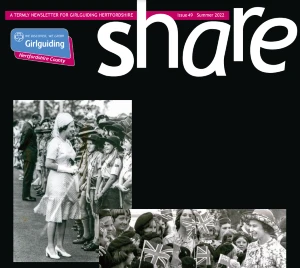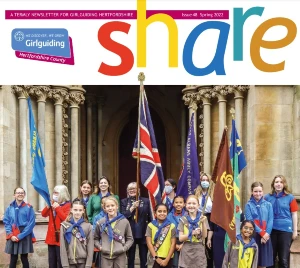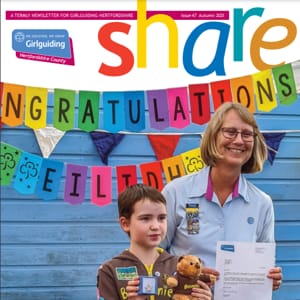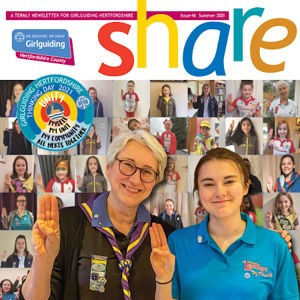 ---
2022 editions
---
2021 editions
---
2020 editions
---
Submit your story
To submit your story send us an email. We would love to hear your stories about you and your unit, district and division or Trefoil Guild.
Photos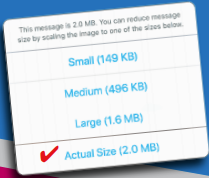 Please attach original photos with picture sizes of 1MB-3MB if possible as these reproduce best in Share.
Mobile phone cameras take great photos so when sending in, please email each photo separately (so they are not condensed in size) and if prompted to, please ask for the photo to be sent in its original/actual size - anything around 1-3MB would be ideal.
Please note photos submitted may be used for Girlguiding Hertfordshire publicity.
Photo Permissions
Every adult featured in a photograph, will need to submit their consent, either via the online Girlguiding Hertfordshire individual photo consent form or by completing and signing the Word version of the form. This form can also be completed by a parent/guardian/carer to provide consent for their child aged under 14.
Where groups of girls feature in photographs, a Girlguiding Hertfordshire group photo consent form should be completed by a leader, either via the online form or using the Word version of the form, confirming all girls have already provided their full photo consent.
The links for the photo consent forms, both online and Word versions can be found on the Resources page.